Riverside and San Bernardino County Championships

Registration Please call 951 255-4416 if you have an emergency situation for registration problems
Date: October 14th, 2017 (one week before Mt SAC). Time: 7:30 AM to 11:45 AM
Place: Glen Helen Regional Park.Gate open @ 6:00 AM, 6:00 AM, Spectators

Attn: Coaches and spectators, the park can only accept cash ($10.00) for park entry.

Cost: $40.00 per team per race plus (5 or more athletes) plus 40 cents per runner/ $8.40 per individual. ($340 maximum for Large and Medium Schools, unless enter both a Varsity team and a Sweepstakes team, then it's $360)

We have added a 40 cent chip fee into the calculation, however, we have limited the extra amount to to the max amounts, above.

Small Schools max, $180, unless enter both Varsity and Sweepstakes race.Use the fee calculator for an accurate total.Payment to:
Rancho Cucamonga HS (IEC)
11801 Lark Dr.
Rancho Cucamonga, CA Results: Immediately following every race, posted on www.runnercard.com as each race progresses and at the conclusion of each race.

Registration: Will be done online through the runnercard.com , website. In the absence of extreme circumstances, teams must enter a varsity team if they are entering a JV team. Please let us know beforehand.
IMPORTANT: Each runner must run in the race in which they are entered. You must change the entry with the timing center prior to a runner's new race or he/she will be disqualified.

​

Divisions: Three (3) racing divisions based on 2017-2018 CIF CBEDS Classification:
Small Schools (SS): CIF Div IV & V
Medium Schools (MS): CIF Division II & III
Large Schools (LS): CIF Division IA Sweepstakes Race: Schools, regardless of division race with up to 18 best schools from Riverside County and San Bernardino County. While most sweepstakes placing is self nominated, meet management will determine sweepstakes placement (factors: CIF ranking, strength of program, and prior Invitational success.)

​

AWARDS: Level Awards: Varsity, Junior Varsity, and Frosh/Soph; Medals for the top 40 runners in each race. Sweepstakes, top 50 runners.Awards to top 2 Varsity teams from each county, (Champions and Runners-up), in all Divisions. Trophies in the F/S, Frosh, Soph, JV, Varsity, and Sweepstakes' races: top 3 teams per race, regardless of county. Perpetual Trophy for the number one boys and girls team of the day from each county. All-County awards: (Riverside, San Bernardino) to top 7 Boys' and top 7 Girls' Varsity runners from each county in each category (SS,MS, LS, Div 1).Inland Empire Championship Plaque to the #1 Sweepstakes team.All County Awards: Given to the 7 fastest boys and 7 fastest girls of the meet by grade level and by county. Coaches please note:Freshmen who run in the medium and large school JV, races will not be considered for grade level awards.Where: Glen Helen Regional Park 2555 Glen Helen Parkway, San Bernardino, CA)
Restrooms: Restrooms are located throughout the park.
First Aid: Athletic Trainer and assistants will be on site.
Other: Coaches consider bringing plenty of water and possibly a canopy.
T-Shirts Multicolor championship T-shirts will be on sale for $20.

Click here to Let us know that you are attending this year!

Confirmed teams:

(2880

athletes,

80

teams have signed up for this meet.)

San Bernardino Co. Riverside Co.

A. B. Miller ArlingtonApple Valley CoronaAquinas Banning
Barstow BeaumontBloomington Temecula ValleyCajon Hemet
Chaffey San JacintoCitrus Valley Centennial
Chino Coachella ValleyChino Hills Eleanor RooseveltColony ElsinoreEtiwanda Great Oak
Grand Terrace Indio

Granite Hills

John W NorthIndian Springs La Quinta*Hesperia La Sierra
Rialto Moreno Valley
Jurupa Hills Hemet
Kaiser Murrieta Mesa
Los Osos Murrieta Valley
Ontario HillcrestRancho Cucamonga Palm Desert Redlands East Valley Paloma Valley Redlands Patriot
Rim of the World Rubidoux*
Riverside Prep Ramona
San Bernardino Rancho VerdeSummit Santiago **Serrano ML KingSilverado Tahquitz Sultana Temecula Preparatory School Don Lugo Vista del LagoUpland West ValleyUpland Christian Academy Xavier College PrepYucaipa Shadow Hills*Carter Norte VistaWestern Christian NorcoPacific Sherman Indian ​Montclair Woodcrest ChristianOak Hills Colton Fontana ​*​Individuals in Sweepstakes racesClick here for Varsity teams Entered in 2017

​
Transportation Concerns 2017
Bus Arrival and Parking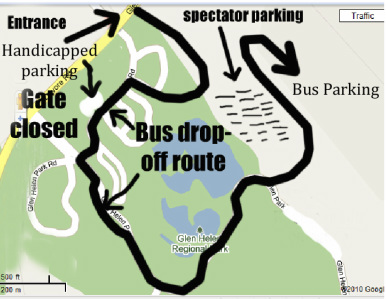 Bus Arrival and Parking
Buses and school vans should exit:
I-15 North at Glen Helen Pkwy, turn rightI-215 North, transition to I-15 South, exit Glen Helen Pkwy, turn left
((May use Devore exit, turn left on Devore and continue straight to park)
From Hesperia, I-15 South exit Glen Helen Pkwy, turn left.
Travel North on Glen Helen to the
Third entrance
(on the right). This gate will be open from 5:30 am to 7:15 am for buses and vans only. Buses can drop off athletes along Bus Route and then be directed through the park to parking area (5:30 – 7:00am). We will have personnel with flashlights to guide you. This route will close at 7:15 AM and buses will then be directed to drop off in the spectator parking area.
Entrance for Spectators
Tell your parents, (spectators) to enter by the same gate as the buses.
There is a $10.00 per vehicle, cash,
entrance fee. Remind the parents in a flyer, to be respectful of the park personnel. They will have their hands full.
Our volunteers will direct arriving spectators to parking areas. Please remind them to follow their direction. Also, please put into your flyers that those arriving after 7:30 to be mindful of the runners, since races will be underway. Should parking be found off-site, there is a $2.00 per person walk-in fee.
Only vehicles with a Handicapped placard will be allowed to follow the buses to the handicapped parking area. A shuttle will take those in need of assistance to the start/finish area.Remind parents not to park on Glen Helen Pkwy or in the Park Maintenance lot across the street from the Park. Cars will be cited and towed. Directions to (google) Glen Helen Park
Map Quest Directions
Preliminary Interest Form.
You are not registered in the meet until you register online on Runnercard.com (
http://runnercard.com/e/runner.Main?meet=1000344
)
Questions?
Terry Tierney
Rancho Cucamonga H.S.
11801 Lark Dr.
Rancho Cucamonga, CA 91701
or
e-mail: coach_morales@juno.com
---