Riverside and San Bernardino County Championships

October 12th, Glen Helen Regional ParkRegistration: www.runnercard.com Time: 8:25 AM to 12:45 PM
Place: Glen Helen Regional Park.
Gates open @ 7:00 AM, 7:30 AM Spectators

Attn: Coaches and spectators, the park can only accept cash ($10.00) for park entry.

Cost: $45.00 per team per race, 5 or more athletes.
$10.00 per individual 4 or less per race.
$360 maximum for Large and Medium Schools. If entering both a Varsity team and a Sweepstakes team, then it's $425

.

Small Schools max, $180, if entering both Varsity and Sweepstakes race, then $225.Results: Posted on www.runnercard.com as each race progresses and at the conclusion of each race.

​

Divisions: Small Schools (SS): CIF Div IV & V
Medium Schools (MS): CIF Division II & III
Large Schools (LS): CIF Division I
Sweepstakes Race:

Up to 18 best schools from Riverside County and San Bernardino County.

Entry to Sweepstakes is generally self-nominated,

meet management will take a look at prior invitational success, rankings, and strength of program to monitor Sweepstakes registration.

AWARDS: Level Awards

: Varsity, Junior Varsity, and Frosh/Soph; Medals for the top 40 runners in each race. Sweepstakes, top 50 runners.

Varsity: County Champions and Runners-up), in each Division

. 1st and 2nd place. If there is a tie, time wise, it will be broken by the team with the best 6th runner.

​

Trophies

: Frosh, Soph, JV, Varsity, and Sweepstakes races: top 3 teams per race, regardless of county.

Perpetual Trophy

for the number one boys and girls team of the day from each county

.

All-County awards:

Riverside, San Bernardino) to top 7 Boys' and top 7 Girls' runners from each county in each grade level.

Inland Empire Championship Plaque

to the #1 Sweepstakes team, Boys and Girls.

All Inland Empire Awards:

Given to the 7 fastest boys and 7 fastest girls of the meet.

Use the fee calculator for an accurate total.Payment to:
Rancho Cucamonga HS (IEC)
11801 Lark Dr.
Rancho Cucamonga, CA
​IMPORTANT: Each runner must run in the race in which they are entered. You must change the entry with the timing center prior to a runner's new race or he/she will be disqualified.Coaches please note:Freshmen who run in the medium and large school JV, races will not be considered for grade level awards.Restrooms: Restrooms are located throughout the park.
First Aid: Athletic Trainer and assistants will be on site.
Other: Coaches consider bringing plenty of water and possibly a canopy.
T-Shirts Multicolor championship T-shirts will be on sale for $20. Cash please.

Click here to Let us know that you are attending this year!

2018 Confirmed teams:

( 64 teams, 2442 runners

)

San Bernardino Co. Riverside Co.

Academy for Academic Excellence
A. B. Miller Arlington High SchoolAlta Loma HS Beaumont High SchoolApple Valley High School Centennial High SchoolAquinas High School Corona High SchoolBarstow High School Desert MirageBloomington High School Eleanor Roosevelt HSCarter HS Elsinore HighChaffey High School Great OakChino Hills HS Indio High SchoolCitrus Valley High School Lakeside High SchoolColony HIgh Cross Country La Quinta High SchoolColton HS Moreno Valley HSDon Lugo High School murrieta valley high schoolEtiwanda HS Norco High SchoolExcelsior Charter Norte VistaFontana High School Palm Desert high schoolGranite Hills High School Patriot
Hesperia High School Riverside Poly High SchoolIndian Springs High School Rubidoux High SchoolOntario High School San Jacinto HSOrion International Academy Santiago HSRancho Cucamonga HS Shadow Hills High SchoolRedlands East Valley HS Sherman Indian HSRedlands High School Temecula Valley HSRialto HS Vista del Lago High SchoolRim of the World High School Vista MurrietaRiverside Preparatory School West Valley High SchoolSan Bernardino HS Xavier College PrepSherman E. Burroughs HS Murrieta MesSilverado High School United Christian Academy Upland Yucaipa High School Oak Hills HS

Pacific HS

​*​Individuals in Sweepstakes racesClick here for Varsity teams Entered in 2018

​

map to Glen Helen Regional Park, San Bernardino

Course map
Glen Helen course map. Click here for course overview.


Transportation Concerns 2018
Bus Arrival and Parking Directions here... Click

Parking for spectators will be ten dollars a vehicle.

Team Set-up
Please be sure your camp does not interfere with the course or the meet administration area (Meadowlark Shelter).
The other shelters in the park are available. Consider having a team barbecue post event.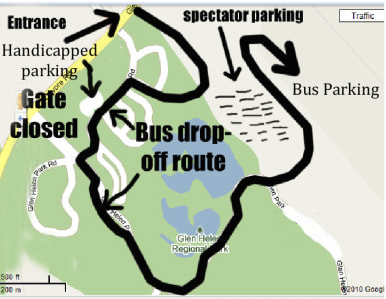 Gates open at 7:00 am for buses, 7:30 am for visitors. Buses will follow drop off route, then park in Bus parking area.
Spectators will be directed to park in large parking lot, then enter park on foot. Handicapped parking, with placard or plates, will be provided and a shuttle will take spectators to the Meadowlark Shelter or the team setup area.
---